Ever since introducing WireTrim® Edge Cutting Tape in 1996, Langeman Manufacturing has continued to develop and advance its cutting tape to solve many related industrial applications. Previously, the use of a utility knife was the only accepted method for trimming through thick films and coatings. Now, vinyl wrap cut tape has revolutionized the industry.
WrapCut has been developed as a problem-solving tool and method of trimming for the vehicle wrap industry. Vinyl wrap cutting tape allows anyone to create simple, clean lines or complex designs.
Using WrapCut is fast and easy. Check out the information below to see why WrapCut vinyl cutting tape is the best choice for your application.
Benefits of WrapCut
Reduces the required skill level to apply wraps
Eliminates the need for a knife and risk of surface damage
Creates new possibilities such as overlapping vinyl surfaces
How to Use WrapCut
Position the tape with the filament-bearing edge along the desired line for cutting
Apply vinyl film to the surface as usual
Pull the filament out and through the vinyl

Creative Cuts Without a Knife
With WrapCut, you no longer need to worry about the vehicle's paint job because the fine filament within the tape will produce a clean, smooth cut-line with just an easy pull through the vinyl. The strong flexible tape removes just as easily from beneath the vinyl for a professional, unblemished finish. WrapCut not only produces impressively straight cut-lines, but is also conformable around irregular shapes and angles.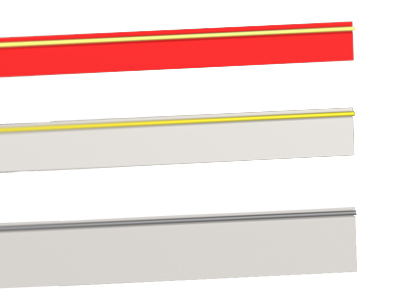 WrapCut Advantages
Cutting filament is always at the edge of the tape
Various adhesive strengths allow WrapCut to be re-positioned
Strong filaments cut through vinyl, carbon fiber, and even PPF with ease
Leaves no residue behind
Add WrapCut to Your Toolbox
At less than Rp.  5.000 per meter, WrapCut is truly affordable for use on any-sized project, whether it be a complete vehicle wrap, or a partial project. This cost-effective tool will aid each job's bottom line by reducing the amount of labor required without creating a large added expense.